It's no secret that curtains and drapes can be extremely tricky to clean properly. Not only are they bulky and difficult to take down, the fabrics they're made of frequently require specialized knowledge and equipment that most homeowners don't have access to.
So how often should you clean your drapes? Can you deal with it yourself, or should you book a professional curtain washing in Dublin? Is washing the only way to keep your curtains dirt and allergen-free? Read on to find out. 
Should you wash your curtains?
The answer to this question depends on which fabric your drapes are made of and how dirty they are. To be safe, you should check the label on your curtains to make sure they won't shrink, become discoloured, or otherwise get damaged if you wash them.
Consider the following:
Washing machine
Certain lightweight and relatively inexpensive drapes can indeed be laundered normally. However, heavy curtains tend to absorb too much water and as such are unsuitable for a washing machine
Hand washing
This is an option as long as you use a detergent that's designed for delicate materials. The material that responds best to handwashing is cotton: just be careful not to twist the fabric too much as that may stretch it or otherwise ruin its shape.
Can you clean curtains without taking them down?
Cleaning drapes and curtains without taking them down is possible if you have (or can borrow) the right tools.
Follow these steps:
Step #1: Vacuuming the curtains is useful if you have a powerful vacuum cleaner and are only looking to remove dust. Put on the upholstery attachment and vacuum the drapes down regularly as part of your standard cleanings. 
Step #2: Give them a good shake by grabbing your curtains near the top to dislodge stubborn dirt or dust. Depending on how high up the pole or rod is located, you may need a step ladder to do this. 
Step #3: Deal with lint (fine dust and fabric fibres) by using a brush or a lint roller on the curtains. For extra effect, have someone pull the drape outwards so that it stays flat while you brush it.
Step #4: Handheld steam cleaner with an upholstery attachment can be used to clean stained or greasy curtains. 
Step #5: Apply a deodoriser if your steam cleaner doesn't manage to remove all unwanted odours from your drapes. 
Step #6: Clean the windows as well to reduce future grime and dust buildup on your curtains. 
Step #7: Keep your home ventilated. This is not only healthy in general, it'll also help keep your drapes fresh and clean for longer. 
What is the best way to clean curtains?
Although the above methods can help in a pinch, the reality is that most people lack the necessary cleaning tools or simply aren't able to spend so much time cleaning their curtains. As always, the most effective way to get truly pristine drapes is by booking a professional curtain cleaning service.
This not only provides you with the best results, but also helps you reclaim your free time. Instead of vacuuming and brushing your curtains, you'll be able to enjoy a leisurely walk through the Saint Anne's Park while the experts make your curtains shine.
Where can I schedule a top-notch curtain washing in Dublin?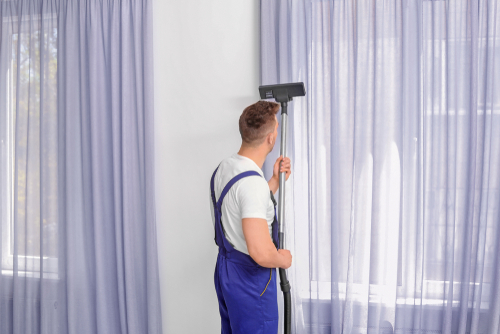 Here at Emerald Carpet Cleaning, we can proudly call ourselves the top provider of curtain, upholstery, and carpet cleaning company in Dublin.
Our experts use cutting-edge steam cleaning and fabric protection products that remove dust, dirt, allergens, mites, and other filth like nobody's business.
Book our services today, or give us a call if you'd like to learn more about who we are and why we have such a long list of satisfied loyal customers!